Steam Valley Bible Church places a high priority on children just as Jesus did in Matthew 19:14 when He said, "Suffer little children, and forbid them not, to come unto me: for of such is the kingdom of heaven." Each week we have several times set aside dedicated to teaching children about the Lord.
Sunday School
Every Sunday the children being with a special opening time at 9:30am downstairs in the church where they recognize birthdays and sing favorite songs as a group. The children then divide up and go to their respective classes based on their age.
Nursery: Ages 0-2, Classroom 4
Mrs. Marlene Hughes: Ages 2-5, Classroom 2
Mrs. Pat Lepley: Ages 6-12, Classroom 5
Mrs. MacAvoy, Teens, Classroom 8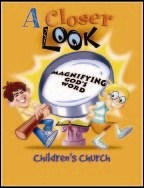 Junior Church
Before the morning worship service begins at 10:30am the children are dismissed to junior church where they enjoy a Bible lesson geared to their age (ages 3-8).
We are using materials from year one of A Closer Look (Quality Speech Materials). A Closer Look is a 7 year series that works chronologically through the Bible with the help of a Bible Lesson and Bible Text, Life Lesson, Memory Verse and Supporting Story. The Supporting Story will be any of the following:
Puppet Script
Fiction Story
Hymn Story
Missionary Story
True Story
Object Lesson
Master Clubs

Master Club meets every Wednesday night at 7:00pm. This program also divides up into age specific groups and has its key emphasis in the following areas:
Scripture Memory
Life Application
Serving Christ Now
Character Building
Baptist Doctrine
"We help children develop godly habits by providing opportunities for them to practice what they have learned during the Bible lesson or during Book Time. Each workbook has projects that the children complete which might be making cookies for a neighbor, visiting elderly in nursing homes, cleaning a neighbor's yard, writing notes to siblings, parents, and the pastor, and many more. This helps establish early in the child's life those habits that all Christians ought to possess." – Master Clubs Website
If you have any questions regarding any of our chilren's programs please go to the Contact Us page and request more information.