May Greetings in our Lord Jesus Christ!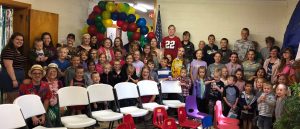 I just thought it might be an encouragement for you to see a picture of our VBS from last year. 😊
Yesterday Wanda and I were eating lunch and we heard the doorbell ring. We looked at each other and I said "why I believe it is a person!" Carol Speary had come to give us some hydroponic lettuce. We were surely glad for the lettuce but were even more glad to see Carol in person! We joyfully greeted one another by bumping elbows. A merry heart does good like a medicine (Proverbs 17:22).
How are you doing? I must admit that at times I get a bit depressed. Yes, we are still busy and glad for the many blessings of our Lord upon our lives. Just yesterday I was talking with the Lord, thanking him for the ability to work and get things done. But I also asked him for an opportunity to witness to someone. That can be challenging during these unusual times. Now why should I ever be surprised that our God answers prayer? In the providence of God, I met a lawyer yesterday. The Lord gave me the opportunity to sit alone with him for at least a half hour giving him my testimony and the gospel. God is always good—even when we have to wear masks! O it is good to get temporal work done, but it is our privilege and responsibility to know that our temporal work is just a means of providing opportunities to be co-laborers with our Lord to get out the gospel! There is joy in serving Jesus Christ!
For we are labourers together with God: ye are God's husbandry, ye are God's building…
Pray ye therefore the Lord of the harvest, that he will send forth labourers into his harvest;
1 Corinthians 3:9; Matthew 9:38.
As I write today I cannot help but remember two years ago on this date. It was a Saturday and I was at our men's prayer fellowship when I received a call. It was a call telling me that my mother passed away. The day happened to also be a church workday. I remember struggling to respond in this situation when people innocently asked me how I was doing. I worked through the day and took care of things that needed to be done. I looked at my calendar and saw that the day was also the first birthday of one of my grandsons in South Dakota. I texted him a birthday greeting.
You have all probably had similar life experiences like this.
Life and death—Jesus Christ is life and has the victory over death! What a wonderful God we serve and what a privilege and responsibility is ours to tell folks of this Good News.
Precious in the sight of the LORD is the death of his saints; Psalm 116:15…
Yesterday I was notified that one of our missionaries—Lena Mellott went home to be with Jesus on April 21. Lena and her husband Raymond (deceased) served for 23 years in Brazil. According to a 7/12/17 letter from Lena, SVBC began support back in 1965 when they attended Boot Camp at Jersey Shore and attended SVBC. Lena just celebrated her 96th birthday on April 14. Please pray for comfort for her loved ones.
Roger Wambold of Hebrew Christian Fellowship (another one of our missionaries) sent a letter to us. I thought I'd share a little of it that was a particular, simple encouragement to me…
"Keep calm and carry on" was the slogan carried by one of a series of three posters
designed and printed by the Ministry of Information of the British government in June
of 1939 when it was apparent that the British people were facing very difficult days as
World War II came to the very shores of the British Isles with the bombing of British
cities, including London. In the midst of this present 2020 crisis of the pandemic and its
consequences, and in the days following, it is our purpose to "keep calm and carry on!"
Our God will help us to do this.
We are looking forward to being WITH many of you IN PERSON soon! Thank you for praying for us and we are praying for you too.
In Christ's Love,
Pastor Tom & Wanda MacAvoy