May Greetings!
Wow—what a gorgeous day! As I write this on Friday, I thank the Lord for sunshine and warmth. Spring is a wonderful season!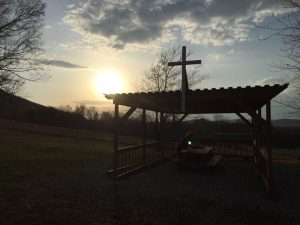 We thank the Lord for the wonderful Seder and Resurrection Day the Lord had for us. We had several visitors and are asking the Lord for His leading and power in continuing to pray for them and follow-up . God is the One Who gives the increase—praise Him!
I must thank the Lord for a great annual business meeting on Wednesday. There was a good spirit and the meeting was followed by a surprise birthday party for someone. Happy 70th Marlie! Blessings.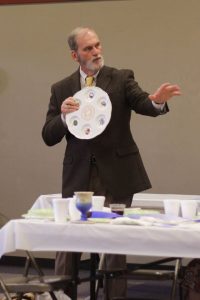 We are looking forward to Revival meetings! I will paste below information about it and some things we'd be glad for you to join us in prayer about. And please invite folks, bring them with you and come! We're looking forward to what the Lord will continue to do both in us and through us.
Our memory verse for May:
Knowing this, that our old man is crucified with him,
that the body of sin might be destroyed,
that henceforth we should not serve sin.; Romans 6:6.
God bless you as you continue serving Him!
In Christ's Love,
Tom & Wanda MacAvoy
PREACH THE WORD: MAY 7TH – 12TH SPECIAL MEETINGS
with Evangelist Todd Sivnksty…
SUNDAY PM (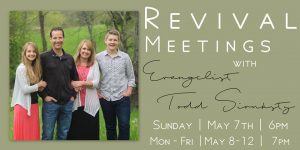 6:00) – MASTER CLUB CLOSING AWARDS PROGRAM
Sunday Morning 9:30 Sunday School/10:30 AM Service
Monday is Ladies' Pack-a Pew Night!
Tuesday is Men's Pack-a Pew Night!
Wednesday is SVBC 100% night!
Thursday is… Community Night with Charles Alsheimer–hunter, photographer, Vietnam vete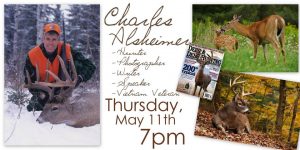 ran
Friday night:
 6:30 – Men/Boys' Cookout, clay bird shoot, and preaching
(Inclement weather: meet at the church fellowship hall)
 6:30 – Ladies/Girls Krista Sivnksty will be sharing devotions with us!
(Place to be announced )
Steam Valley Bible Church 570 Rt. 184, Trout Run, PA
Visit http://steamvalleybiblechurch.com/ Call 570-998-2836
Weeknights at 7:00, except Friday
PREPARATION for May 7-12 Meetings!
Theme: Building relationships for the purpose of witnessing.
Challenges:
1. Ask God to lay ONE specific person on your heart to pray for daily through Friday, May 12.
2. Be willing to be stretched spiritually—praying and looking for the next step of spiritual growth God has designed for you.
3. Pray! Let's plow the fields with prayer!
Prayer opportunities…
1. Regular prayer meeting on Wednesday, May 3 at 7:00.
2. Men's prayer fellowship on Saturdays 8:00 – 9:00 a.m. in the Fellowship Hall: April 29 & May 6.
3. Ladies' prayer fellowship on Saturdays 8:00 – 9:00 a.m. in the parsonage: April 29 & May 6.
Prayer requests/lists…
1. Pray that God's people will…
• Have hearts open/receptive to God working in and through us
• Pray personally—for self, family, SVBC, the backslider and indifferent, the lost
• Be faithful to the Lord, SVBC & the meetings
• Your service for God—that He would "establish the work of your hands" (Psalm 90:17)
• Grow in building relationships for the purpose of witnessing
• Make good preparations for the meetings
2. Pray that the Lord will…
• Revive/refresh His people
• Save souls—reach the unbelieving with His gospel.
• Increase our desire to pray and study His Word
• Change us to be more like our unchanging Savior
SPRING! Time to plant the seeds of change…
then stand back & watch yourself grow!
3. Other prayer ideas..
• Believers would follow the Lord in believer's baptism.
• The Lord would add to SVBC membership
• Marriages & families would blossom and flourish.
• Evangelist Todd, Krista, Cameron & Ivy Sivnksty
• Love offerings and expenses covered
• Charles Alsheimer testimony
• Be a blessing to our guests and each other
• Nursery workers
• Parking workers—especially on Sun. and TH nights.
• Yieldedness to Holy Spirit conviction
• Master Clubs closing program Sunday night and light refreshments afterwards
• Posters/advertising effectiveness