Whatever else we have, or don't have, in this life,
we have the great gift of eternal life,
through faith in Christ and His finished work of redemption.
On this New Year's Eve, as I was reading a devotional (pasted below), the above statement caught my attention. I have taken some time to think over the days of this year and meditate on my blessings—writing some out and thanking the Lord for them. I encourage you to do the same. Perhaps we can share some at our New Year's Eve fellowship tonight. But here is one that I wanted to share with you now: I thank the Lord for YOU—my church family. What a blessing you and your fellowship are to me! Thank you.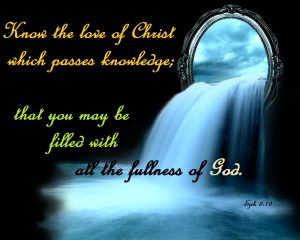 Please pray with us…
The deacons and pastors will be meeting on January 11 to decide what, how, and when to resume some of our other SVBC activities. We need wisdom to be a testimony for our Lord, serving Him and our community—both saved and lost.
Continued Holy Spirit led and empowered preaching, teaching, discipling, outreach, etc. We are excited about our theme…
2021 LOVE:
knowing the love of Christ which surpasses knowledge
… to know the love of Christ, which passeth knowledge,
that ye might be filled with all the fulness of God; Ephesians 3:19.
We are thankful specifically over the last month…
The wisdom and unity the Lord has given our deacons and pastors in deciding our SVBC standards for dealing with the pandemic and our church family's great support
There have been no more cases of COVID-19 in our church family
Good spirit and unity in our Sunday morning worship
Visitors!
Pastor Josh, Kayla, & Joe getting settled, serving, and being a blessing
SVBC Christmas Program—we all enjoyed the individual family videos put together in one video—Christmas carols, devotions, blessings. Great job and thank you to Pastor Josh for doing this. One blessing of the pandemic is families spending more time together and especially time in God's Word, prayer, and service for His glory!
Technology—good Zoom prayer meetings, participation, fellowship, and… prayer!
Opportunities to be a blessing to folks as we caroled
A blessed "Simple Christmas" Eve candlelight worship service
God's perfect faithfulness
If we believe not, yet he abideth faithful: he cannot deny himself…
Faithful is he that calleth you, who also will do it.
2 Timothy 2:13; 1 Thessalonians 5:24
As always, thank you for praying for us.
We are continuing to pray for you too!
In Christ's Love,
Pastor Tom & Wanda MacAvoy
———————————————————————————————————————
Loaded with Blessing
Credit: Jesus Christ;
https://www.icr.org/articles/type/6%3cspan%20id=%22ms-outlook-android-cursor%22%3e!~OMSelectionMarkerEnd~ ; Henry M. Morris, 12/31/20
"Blessed be the LORD, who daily loads us with benefits,
even the God of our salvation." (Psalm 68:19)
As we come to this year's end, it is helpful for us as believers to think back over the days of the year and to meditate upon our blessings. We may, indeed, have experienced defeats and losses, disappointments and injuries in great number. If we are honest with ourselves, however, we as Christians will always have to acknowledge that our blessings far outweigh our burdens. God "loads us with benefits," and is even working in and through all the trials and hurtful things together for our good (Romans 8:28). Even a burden can become a blessing if we take it as a gift from God for our spiritual benefit.
Therefore:
"Bless the LORD, O my soul, and forget not all his benefits" (Psalm 103:2).
"In every thing give thanks: for this is the will of God in Christ Jesus concerning you" (1 Thessalonians 5:18).
"Rejoice in the Lord always: and again I say, Rejoice" (Philippians 4:4).
He has given us "life, and breath, and all things" (Acts 17:25). Far more importantly, He is "the God of our salvation." Whatever else we have, or don't have, in this life, we have the great gift of eternal life, through faith in Christ and His finished work of redemption. We have it every day of the year and are daily ready to meet the Lord, whenever He calls. Each day we have the indwelling presence of His Spirit, the illuminating guidance of His Word, the daily provision of all real needs, and the assurance of His love. He has surely loaded us with benefits!