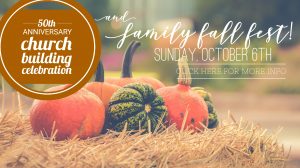 Sunday—October 6:
50th Anniversary Celebration and Fall Fest!
The cornerstone on our church building is dated 1969. While it is hard to believe, that means that this year is the 50th anniversary of that date. So Lord willing, Sunday, October 6:
*Sunday school at 9:30; we plan to use this time to remember and give thanks for how the
Lord has blessed us over the past 50 years. We have some pictures, a timeline of  events
that have occurred, and a DVD of some of the construction of the buildings.
*Morning worship at 10:30
*Lunch in our Fellowship Hall followed by a hayride
*Dessert contest—yum!
*YOU are invited! J
The Lord is continuing to bring children to us so we would appreciate your prayers for us as we seek to love them, and plant & water the seed of God's Word. This Fall we changed our meeting time for our Children's Master Clubs from 7:00 p.m. to 3:15. The school bus has a stop right at our parking lot so quite a few are able to get here that way. As of now we have 37 children that have attended. Personally the change in time for me allows me to interact with the children and get to know them better. It was fun to throw a football with them as we waited for club to start last week! Another blessing is our workers and how faithful they have been. We also thank the Lord for several teen helpers who are not only helping but are learning and being encouraged to lead. Last week one of our 6th grade boys already asked if he could be a helper next year. Please pray with us for the salvation of souls, for safety, and for wisdom as we seek to minister not only to the children but also to their parents and other family members. Master Clubs Families-Alvirez; Atwater; Beck; Bishop; Ciarlo; Fields; Gehman; Harris; Kane; Lovett; Marks; Martin; Persun; Roberts; Sharp; Sponenberg; Vick; Wetzel; Wilkinson; Wolf; Workers-Beck; Smith; Harris; Hughes; Kirch; MacAvoy; Marks; Martin; Sharp; Speary; Wetzel; Young
Folks in our Homeschool Helpers group met a few days ago to organize and are looking forward to resuming Tuesday, October 1. This is another opportunity to help both those in our church family as well as reaching out to our community. It is also an opportunity for me to give a simple Bible lesson and challenge at each meeting.
Last Sunday morning was a special blessing as Vic Livermore stood up and thanked the Lord for the good report he received. For now he has finished his chemo treatments and thanks you for your prayers! Let's keep praying for one another.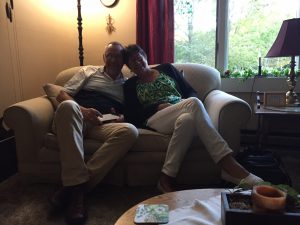 Missionaries Jan & Annette Wols (Papua New Guinea/PNG) were with us
on Wednesday, 9/18. As you can see in the pictures, they had a few minutes to speak with our Master Club children. Then in the evening it was a delight to hear how the Lord is continuing to use them. Please pray with us for them as they are now back in PNG.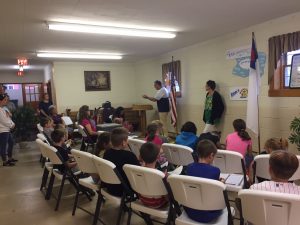 Work day was beautiful both weather-wise and fellowship-wise. We were able to get many things done—including some painting outside that really looks great as you can see in the pictures.
We greatly appreciate your prayers and we pray for you too!
In Christ's Love,
Tom & Wanda MacAvoy