October Greetings!
Happy Fall!
This is a little early, but since the 1st is a Sunday, if you are in our area, you're invited!…
FALL FARM & FAMILY FEST!
Sunday, October 1
Lunch on the grounds followed by hayride & family game
 The purposes of our Fall Farm & Family Fest…
Encourage biblical worship of our God
Honor our FARMING heritage; Help and encourage FAMILIES
More fellowship with our brothers and sisters in Christ
Would y'all PRAY, help, invite & plan to come? Feel free to dress appropriately for the activities and FARM theme! J
We are thankful to have a new family bringing their two children to Master Club for the lasttwo weeks. We got to meet them at the bus stop and invited them. It was a blessing to have them call, ask about the clubs and then co
me! Please pray that we would faithfully plant and water the seed of God's Word and trust the Lord to bring the increase!
Praise the Lord and a BIG thank you to all who worked hard at our SVBC work day! Lots of work accomplished: kitchen cleaned; sparkling windows; flower beds worked on; fall decorating; and 2 trees and 2 parts of another tree safely cut down, sawn up, split, stacked, brush hauled away and yard raked up.
Mary Wilson is SVBC's oldest member and will have her 100th birthday on Nov. 2, 2017.
If you could send her a card, that would be great!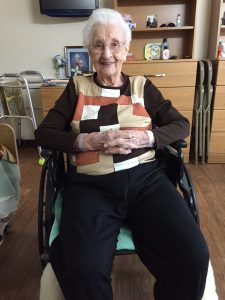 Mrs. Mary Wilson, Room 509
The Williamsport Home
1900 Ravine Road
Williamsport, PA 17791
Please pray with us as we are planning Evangelistic Tent Meetings to be held possibly in Mansfield in September of next year. We are working with two other churches in our area to seek to get the Gospel out!
Thank you for praying for us!
In Christ's Love,
Tom & Wanda MacAvoy