February Greetings!
OK, so today I confessed my sin of becoming overwhelmed with circumstances of life. I am thankful for our perfect God Who forgives and is so gracious and merciful. I'm also thankful that my salvation is based on the finished work of Jesus Christ on the cross and that I am kept by the power of God. As I went over to turn up heat in the Fellowship Hall for Men's Prayer Fellowship a little before 6:00 today, God kindly reminded me that I need to be overwhelmed with Him! The sky was clear and studded with more stars than I could count! …
O LORD our Lord, how excellent is thy name in all the earth!
who hast set thy glory above the heavens. … When I consider thy heavens, the work of thy fingers, the moon and the stars, which thou hast ordained; What is man, that thou art mindful of him? and the son of man, that thou visitest him? Psalm 8:1, 3-4.
We have several shut-ins and the number of them increases in the winter. As I visit them, most all lament that they can't get out to church but would love to do so. It's a great opportunity to be an encouragement and blessing to them and also be encouraged by them. So greetings from all our shut-ins! Often, they make me smile—like when Mrs. Buck tells me that in the winter she's "incarcerated"! And then she laughs and tells me that though the snow and ice prevents her from walking daily outside as usual, she still gets on her treadmill every day! I won't embarrass her by telling you her age but she sure runs circles around me! 🙂 If you have opportunity to visit &/or send a card to our shut-ins they would surely appreciate it, especially this time of the year.
Thank you for your prayers! We have many answers to prayer and I'll share a few.
• NY's Eve we had great fellowship, food, and a clear presentation of the Gospel as we watched the film The Case for Christ. It spoke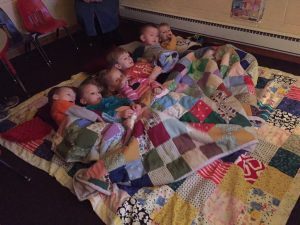 to both the saved and the lost. The picture is of our "Nursery Buddies" who enjoyed a wonderful time together that evening too!
• Our new adult Sunday Sc
hool class has gotten off to a good start with some good attendance, spirit, questions, and … Answers… in Genesis as well as the rest of the entire Bible!
• This past Monday we had the opportunity to have good fellowship and provide a meal for our Missionary Thad Peacock family. Please pray as they transition to a new ministry, as Brother Thad plans for a survey trip, and also as he will be preaching at SVBC on Sunday, February 18.
• We have several men planning to go to a men's retreat February 2-3. Please pray for safety, a time of spiritual refreshment, and men used of God to sharpen other men spiritually.
• SVBC physical and spiritual victories a bit too personal to publish specifically but we're thankful that some folks are truly responding with faith to Biblical counseling.
• Several men already volunteering to work our Sweetheart Breakfast on Sunday, February 10 at 9:30. The breakfast is open to everyone but our men's desire is to love/honor our ladies and have them do nothing but attend and eat! Please pray with us as we seek to avail ourselves of the Spirit of God's work in our hearts—building redemptive relationships.
We also have many prayer requests.
• I heard this week that Eric Grimes passed away. Please pray for his loved ones.
• Sickness: Max Peacock is in the hospital/therapy recovering from a light stroke; Shana Swabb is also in the hospital for hernia surgery and then possible transfer to a Pittsburgh hospital to treat ovarian cancer; Max Bohart recovering from pneumonia and seeking resolution of mold problem in his house; Patricia Lepley upcoming knee replacement.
• Baby shower for Becky (Brown) Riley, Sat., 2/17 at 10:00 in the Fellowship Hall.
• Mom's Morning starting TBA in the Fellowship Hall; studying Parenting: 14 Gospel Principles that can Radically Change your Family by Paul Tripp; children are welcome!
• Plans underway for our 2nd annual 3-on-3 Basketball Outreach on March 24.
Blessed be the God and Father of our Lord Jesus Christ, which according to his abundant mercy hath begotten us again unto a lively hope by the resurrection of Jesus Christ from the dead,
To an ineritance incorruptible, and undefiled, and that fadeth not away,
reserved in heaven for you, Who are kept by the power of God through faith unto salvation
ready to be revealed in the last time; 1 Peter 1:3-5.
Thank you for praying with us and for us. We pray for you too!
In Christ's Love,
Tom & Wanda MacAvoy