September Greetings!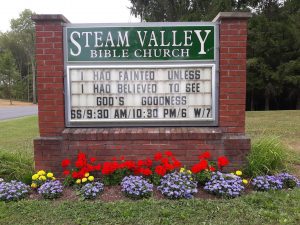 Last week Rachelle Wilkinson and Jennifer Marks used materials from AnswersInGenesis to do a Backyard VBS. Different times sometimes call for different ways to get the Gospel out. Praise the Lord that the Gospel never changes!
Thursday night we enjoyed a concert by the quartet Forever Be Sure. There were more people in attendance than I expected, and they sure stayed afterwards for good fellowship!
This Sunday, August 30 – Wednesday, September 2 we are having REVIVAL Meetings with Evangelist Mike Pelletier: https://www.mikepelletierministries.org/ 
If you are in our area, we'd love to have you join us (Sunday: 9:30, 10:30, 6:00 and then Monday-Wednesday 7:00).
"Our team is co-laboring with the churches that we are in,
across America and across the world,
seeking God for revival and reaching the lost for Christ.
We desire for God to heal our land."
Change! Are you weary of it? If so, here's a good verse to think about:
Jesus Christ the same yesterday, and to day, and for ever! (Hebrews 13:8)
Change! My wife and I are currently somewhat separated. Lord willing, it won't be for too long though! Last week Wanda moved in with her Mom to provide the increased care that she needs. Mom only lives ~10 minutes away, so that is good. And we are thankful that we can honor her in this way. It does give me a good reminder of God's perfect Word—And the LORD God said, It is not good that the man should be alone; I will make him an help meet for him; Genesis 2:18. 😊
Change! I will be moving to join Wanda at her Mom's house as soon as we can do some renovations to make this possible. So that means the parsonage will be empty…
Change! For several years we have been praying about "passing the baton" as far as the next pastor of SVBC. Recently the Lord has brought a young man to us and we are seriously seeking to discern if the Lord is calling him to come to SVBC as an assistant pastor to be mentored to be the next senior pastor. Please join us in earnest prayer about this!
Please continue to pray:
MaryAnn Egrie is home from the hospital. Her mother is staying with her to help her.
Rick Young is continuing with radiation treatments.
With some folks concerned about gatherings because of COVID-19, we have been praying about how to more effectively minister. Recently on Sunday nights we have been having some different opportunities. I'm thinking of it as Evening Edification and Evangelism. It has been great to hear of some of our young men as well as others effectively leading some small group Bible studies at their homes. Then one of our older men had a good idea and gave us a list of 3 homes where new people have just moved in. We have had several good opportunities to reach in to our church family on a more personal basis and encourage them spiritually as well as to reach out to the lost. The deacons and I are praying and seeking to help others as well as ourselves to be both intentional and accountable in these things. We are also continuing to gather for corporate worship on some Sunday evenings—such as this coming Sunday. Blessings.
Please pray for our missionaries David & Julie Loop as they finish their furlough and travel back to Portugal next week. It was great to have them with us a few weeks ago.
Thank you for praying for us and we are praying for you too!
In Christ's Love,
Pastor Tom & Wanda MacAvoy