Thank the Lord for His Word, His people, and opportunities to give out God's Word:
Cogan House Township Festival—August 25, 2018!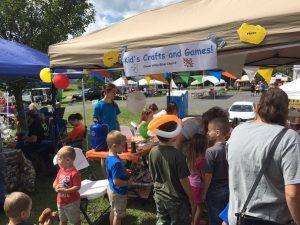 Great day at the Cogan House Township Festival! We had a booth for children. We were mobbed several times as we had several different Bible games and crafts for them to do as well as free cotton candy and helium balloons. We ran out of several things. Thank you to the many at SVBC that worked hard as well as so many in the community to make this a great relationship-building time! We even ran out of invitations to our Children's Master Clubs—which resume this Wednesday at 7 p.m.! We praise the Lord for His goodness!