We started September with Revival Meetings with Evangelist Mike Pelletier. The Lord graciously worked among us and strengthened us spiritually. We thank the Lord for several specific decisions made, including one profession of faith after the meetings. We were also thankful to have Darla Krotzer join our church. Brother Mike and I got to spend quite a bit of time together. We enjoyed making some visits, praying together, and just good fellowship. Please continue to pray for Mike's wife Becky as she has serious ongoing physical challenges. While she has had many tests, the doctors are not sure what her situation is.
Last week a man contacted me and asked to set up a time to meet. So, we arranged to meet yesterday. It was one of those times when I didn't know what the meeting was going to be about. What a blessing to hear him tell me that he just wanted to get with me to see how I was doing and be an encouragement. And he surely was! It's always great to share scripture and pray with a brother in Christ.
We thank the Lord for many blessings from our Evening Edification & Evangelism. And we ask for your continued prayers that we would continue being intentional and accountable in this area. This past Sunday, Wanda and I set out to visit three families that just moved into our neighborhood. But we only got to visit with one family. Why? Because we had such a great time with them, they showed us all around their place, and we ran out of time to visit the other families. On the same night another deacon invited another family to their house, and I know of at least one other small group that has been faithfully meeting with godly leadership. It has been a blessing to hear of more of our people reaching out instead of what can be our tendency to just take in.
Please continue to pray for Rick, Nadine, & Jodi Young. It has been a blessing to see not only our church but also our community continually reach out with all kinds of help. Rick has discontinued radiation treatments.
If you are in our area, have you taken time to appreciate how beautiful the fall foliage is this year?
I have heard several folks comment on it. My favorites are the bright orange row of trees just down Route 184 from the church building. With that in mind, this coming Sunday (October 4) is our Fall Fest, luncheon, & hayride. Pastor Josh, Kayla, and Joseph Ham will be with us for the day. Pastor Josh will be taking time in Sunday School to share how the Lord has led in his and Kayla's lives. He will also be preaching in the morning worship service. Please continue to pray with us as on Wednesday, October 14 we will have a business meeting for the purpose of voting about calling Pastor Josh Ham as assistant pastor of SVBC.
Thank you for praying for us and we are praying for you too!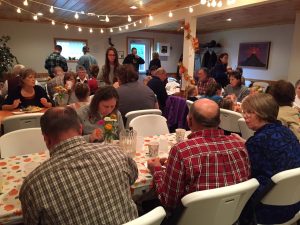 In Christ's Love,
Pastor Tom & Wanda MacAvoy