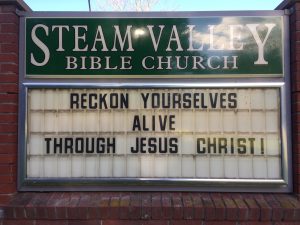 Well the woodstove is cranked up and it's kind of nice to have things tucked away for winter. Some folks gave us 3 more heads of cabbage so yesterday I helped Wanda make sauerkraut. It's nice for the canning season to be complete—lots of work but shelves full of the promise of good food for months to come. God is good. We thank Him for His exceeding abundance in every good thing.
At our work day some folks did a great job of cleaning the windows downstairs in the church building. I was outside admiring the sparkling windows with another man and mentioned that it would be good if we could do something to stop the dirt from spattering up on the windows. So this morning, in comes a truck with wood chips and mulch. The man took it upon himself to make his own and share with the church. It sure looks great. I love how the body works together in both physical and spiritual things. A big thank you to the many folks who do so many jobs that keep the buildings and grounds looking sharp. It's a good testimony.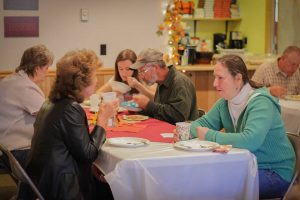 One of the most favorite things that Wanda and I enjoy doing together is giving out the Gospel. On Tuesday we had a great opportunity as we visited in a home near here. This family has been bringing their children to our Wednesday Bible Clubs for the last eight weeks. They were receptive to our visit and seemed open to listen. Thank the Lord for witnessing opportunities and please pray for the salvation of these folks.
We have had two other good opportunities that it would be great if you'd pray about. I can't give details except that they are both situations that involve not only our church but also Christians from outside our local area. It's great to see the Lord working in both the local church and the greater body of believers. For we are labourers together with God…;  Lift up your eyes, and look on the fields; for they are white already to harvest; John 4:35; 1 Corinthians 3:9.
Some folks who could use some special prayer and maybe a card or some other encouragement:
Raymond Lepley had a mini-stroke 10/15 and is waiting to hear about the possibility of a procedure for his carotid artery. Max & Norma Peacock—Norma fell last Saturday and has a badly bruised hand and arm. Max is having a severely painful issue with a toe. If you need a phone number or address, please feel free to contact me.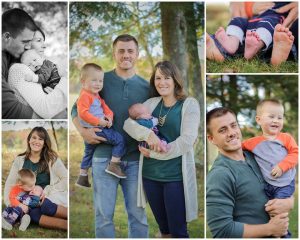 Welcome and thank the Lord with us for the safe arrival of Trent Wilkinson! And congratu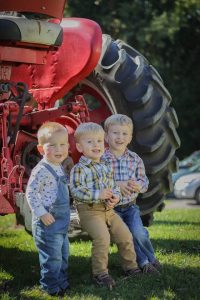 lations to Will, Rachelle & Liam!
Looking ahead, we are preparing for an International Christmas. It will be Sunday, December 3 at 5:00 p.m. in our Activity Building. It will be similar to our International Missions Banquet that we had a few years ago. Several of our folks have chosen countries and will provide a table with all kinds of information from that country regarding their spiritual condition as well as Christmas traditions and of course—native foods. The Master Club children are working on a Missions Badge so they will be studying and contributing what they've learned about the different countries. And we will have them doing a little play as well. Special music, carols… we're looking forward to a wonderful time of celebrating the incarnation of our Savior. Plan to join us if you can! And please pray that we could effectively reach out to some more families with the Gospel using this activity.
Plan to join us for our annual Thanksgiving Eve Praise Service at 7:00 p.m.! We'd love to share this blessed time with you.
Lastly I'd appreciate your specific prayers about seeking permission to hold our Tent Meetings next September at the park in Mansfield. If we can get the location settled and secured, then we can make progress on other details. We are excited about this outreach involving other local churches of like precious faith in Jesus Christ.
Thank you for praying for us!
In Christ's Love,
Tom & Wanda MacAvoy
   HAPPY THANKSGIVING!