Blessings. I just had the privilege to go through discipling with a young man—the study was "You and Your Salvation." He had completed the study, came to our appointment, and had good questions. It was a blessing to read his testimony of salvation that he had written out. Next study?—"You and Your Baptism and Church Membership." It is a WONDERFUL privilege to sit down with men and study God's Word together!
And then yesterday, we got to meet a little man: Tucker Joseph Riley! Congratulations to Chad & Becky & all the loved ones!  Tucker was born Wednesday, April 25; 9 lbs, 8 oz; 22".
Last night was also our annual business meeting—short, calm, and sweet. So we are thankful for that too!
Last weekend ~17 of our ladies enjoyed a retreat from the world and to the Lord—His Word and great fellowship. There were several testimonies of the Lord's continuing work in hearts.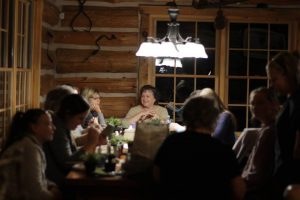 Some things to pray about:
Several ongoing one-on-one witnessing/discipling opportunities—please pray for salvation, progressive sanctification, & revival!
Sunday, May 6 @ 6:00 p.m., Master Club closing program, awards, and fellowship.
Tuesdays @ 9:30 a.m., Ladies' Bible Study
Thursdays, May 10 & 17 @ 9:00 a.m., Mom's Morning
Friday, May 11 @ 7:00 p.m., Men's Bible Study in the Fellowship Hall
Saturdays @ 8:00 a.m., Men's Prayer Fellowship
Teaching & Preaching: Sunday School—God Preserves His Word; Morning Worship—Verse by verse in the Gospel of John; Evening Worship—more study on the subject from the morning but from different Scriptures; Wednesday Bible Study—new series starting May 9!
And all thy children shall be taught of the LORD;
and great shall be the peace of thy children; Isaiah 54:13
Therefore being justified by faith, we have peace with God through our Lord Jesus Christ: By whom also we have access by faith into this grace wherein we stand, and rejoice in hope of the glory of God; Romans 5:1-2.
"Never doubt in the dark what God told you in the light." –V. Raymond Edman
"Never be afraid to trust an unknown future to a known God." –Corrie ten Boom
"Doubts and fears are not marks of God's children. They are remnants of the old nature, specks on the eye of faith." –Andrew Bonar
"Passive faith accepts the word as true
But never moves,
Active faith begins the work to do,
And thereby proves,
Passive faith, but praises in the light,
When the sun doth shine.
Active faith will praise in the darkest night—
Which faith is thine?"
—Source Unknown
Thank you for praying with us and for us. We pray for you too!
In Christ's Love,
Tom & Wanda MacAvoy