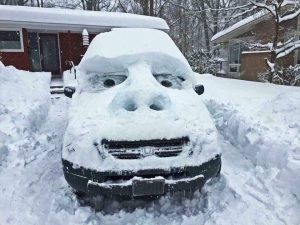 I just thought that with all the snow and bitterly cold weather, you might need a good chuckle!
A merry heart doeth good [like] a medicine:
but a broken spirit drieth the bones; Proverbs 17:22.
Spring will begin: Wednesday, 20 March 2019!
That's only 7 weeks away…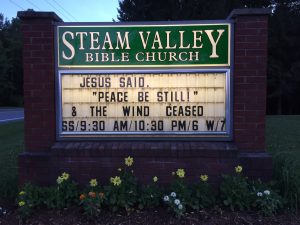 Thank the Lord with us for some recent blessings…
A great spirit in church on Sunday; we had a wonderful day worshiping the Lord
Three people want to join the church
A young man doing the songleading
Another young man doing the sound and powerpoints
A young family sang all together for the first time for special music
A neighbor came for the first time to Sunday School & Church
2 good January relationship-building activities—one for families and one for young adults
Seven men are planning to come to the SVBC men's retreat this weekend
On a personal note, we have a new granddaughter—Katie Rose, born January 15
Please pray with us…
Cy Hughes; Cy is still in Williamsport Hospital because the doctors have been unsuccessful at clearing his bowel blockage. They still have a few other things to try to clear it, but if it does not clear, surgery will be necessary. For many years, Cy has suffered with Crohn's disease which is an inflammatory bowel disease. The surgery is dangerous and would need to be performed at either Hershey or Geisinger. Please pray for the blockage to clear, for grace for Cy, and wisdom, skill, and compassion for everyone involved.
SVBC Men's Retreat at Bear Paw Lodge, this Friday-Saturday, February 1-2. Last year one of our men suggested that we have our own men's retreat closer to home. So we prayed about it and this is our first try at it. We're asking the Lord for a time of: spiritual refreshment, challenge, encouragement, closer bonding to our Lord and one another, great fellowship, and hearts touched (young and old, saved and unsaved)
Ongoing daily discipling of all believers, folks to follow the Lord in believer's baptism, witnessing, salvation of souls
Jesus Christ could die for our sins because He was sinless man;
He could take away the penalty of our sins because He is omnipotent God.
That which we have seen and heard declare we unto you,
that ye also may have fellowship with us:
and truly our fellowship is with the Father,
and with his Son Jesus Christ; 1 John 1:3.
Thank you for praying with us and for us!
We pray with and for you too.
In Christ's Love,
Tom & Wanda MacAvoy