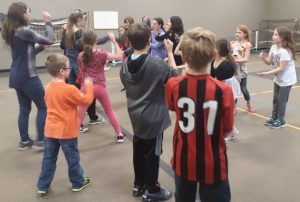 What a great way to start March—with the 1st being on the Lord's Day. Join us as we start this new month together with fellowship in God's Word continuing in the Gospel of John chapter 17 as well as partaking of the Lord's Supper in the evening.
The picture is of some of the children enjoying game time during Master Clubs this past Wednesday. It's a blessing to watch and listen as God's Word is carefully and lovingly taught in the three different classes by our teachers. The Ambassador class is made up of the older children. This week I got to get with 2 of these boys and teach them about baptism as they were working on this verse:  Then they that gladly received his word were baptized: and the same day there were added unto them about three thousand souls; Acts 2:41. Both boys profess to have received Jesus as their Savior so it was a good opportunity to teach them what God's Word states about baptism and encourage them to follow the Lord in believer's baptism. This verse was timely as a baptism service is being planned for our grandson James. We are thankful and looking forward to it. Please pray with us to have wisdom, discernment, and the leading of the Holy Spirit as we desire to not baptize those who have made false professions but encourage those who truly have received Jesus Christ as their Savior to be obedient to our Lord in this matter. But Jesus said, Suffer little children, and forbid them not, to come unto me: for of such is the kingdom of heaven; Matthew 19:14.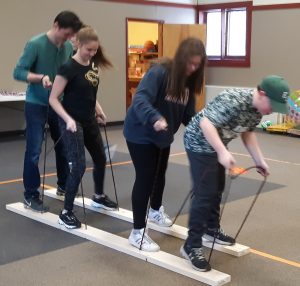 Indoor skiing was one of the events some of our youth enjoyed at the Wacky Winter Olympics activity last week. It was a blessing to have fellowship with youth from Tabernacle Baptist Church and to hear the Gospel being clearly presented.
Last Sunday we again had visitors in the morning service—Tammy & Jacob Lenher. When I contacted them this week to see about meeting with them Tammy said that her husband Gordon is
battling pneumonia along with the side effects resulting from the medicine he is taking. So they would appreciate your prayers too.
Please pray for Vic & Lorraine Livermore and family. Marlene told me that Vic's cancer is back. He went back to the hospital on Wednesday.
Here are some other things to join us in prayer about…
March 22       SVBC 4th annual 3-on-3 Basketball Outreach
http://steamvalleybiblechurch.com/3-on-3-basketball-tournament/
April 2            Forever Be Sure quartet; this is a Thursday at 7:00 pm
http://steamvalleybiblechurch.com/events/10438/forever-be-sure/
April 12          Resurrection Day with Evangelist Andy Gleiser and Family
April 26          Missionary Joe Stinson and Family and Master Club Awards in the evening
Lord willing this Sunday our adult Sunday School class will continue studying about Joseph from Genesis. Then in the morning worship time we will continue in John 17:13-29: We can overcome because we have the Overcomer's Word! How does the Word of God enable us to overcome the world? To begin with , it gives us joy. And now come I to thee; and these things I speak in the world, that they might have my joy fulfilled in themselves; John 17:13. Join us for great fellowship and encouragement in God and His Word!
I don't know if you'll be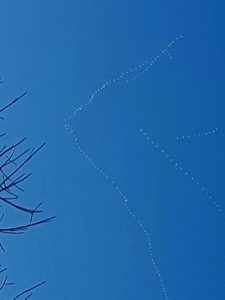 able to see them or not in this picture, but as I was walking one day I heard a noise and looked up and saw these snow geese. Last Sunday night we finished reading the Psalms.
Let every thing that hath breath praise the LORD. Praise ye the LORD; Psalm 150:6.
In Christ's Love,
Tom & Wanda