…marvellous are thy works; and that my soul knoweth right well; Psalm 139:14.
That is our SVBC theme verse for this year. We're praying about our relationships with Jesus Christ—growing and obvious to the younger ones in our individual families and church family and asking the Lord for His blessing in "passing the baton" to the next generation!
SURPRISE! OK, so I go to Sunday School last Sunday and our dear folks had a little surprise fellowship time for me for my 60th birthday. The cards and words were an outpouring of love and support. What a privilege to be called of God to preach His Word and be a pastor. How humbling! And then… I was minding my own business on Monday and walked into my daughter's living room and had another surprise—all my siblings were there to harass me—I mean  to celebrate my birthday again J. How humbling again—as they drove from 4, 6, & 8 hours away! I thank the Lord for His marvellous works, my family, extended family, and church family!
Some things to thank the Lord and pray about:
Our Children's Master Club closing program was a blessing; pictures attached.
School's out! Congratulations to all who finished well, and especially to Kayla who graduated from 6th grade this week.
Happy anniversary to Max & Norma Peacock—June 2!
Marlin Plank is home and doing well from shoulder surgery on Wednesday; therapy continues.
A young family has asked us to visit them and we are doing so tonight. Please pray for the Lord's will to be made clear concerning His choice of a local church home for them.
Several other ongoing one-on-one witnessing/discipling opportunities—please pray for salvation, progressive sanctification, & revival!
Sundays: Teaching & Preaching:

Sunday School—The Bible is the only inspired revelation from God: tolerance and how to discern if someone is adding to or subtracting from God's Word.
Morning Worship—Verse by verse in the Gospel of John
Evening Worship—more study on the subject from the morning but from different Scriptures

Sunday, June 24—Ev

angelist Gary Kramer; http://philemon7.org/home

Tuesdays @ 9:30 a.m., Ladies' Bible Study
Wednesdays: Bible Study & Prayer Meeting—studying Proverbs
Thursday, June 21 @ 9:00 a.m., Mom's Morning in the Fellowship Hall—Parenting study
Friday, June 15 @ 7:00 p.m., Men's Bible Study in the Fellowship Hall—1 Peter study
Saturdays @ 8:00 a.m., Men's Prayer Fellowship
Saturday, June 30—VACATION BIBLE SCHOOL!!!
 …that all the kingdoms of the earth may know that thou art the LORD God, even thou only…
For out of Jerusalem shall go forth a remnant, and they that escape out of mount Zion:
the zeal of the LORD of hosts
 shall do this; 2 Kings 19:19, 31.
The Lord knoweth how to deliver the godly out of temptations…; 2 Peter 2:9
Thank you for praying with us and for us. We pray for you too!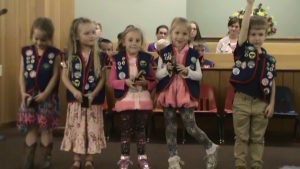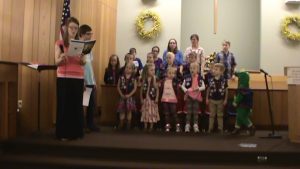 In Christ's Love,
Tom & Wanda MacAvoy