Summer! On Monday, Wan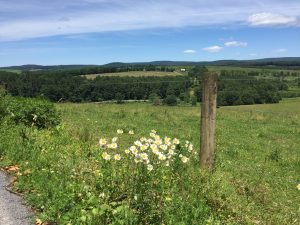 da and I celebrated our anniversary by taking the day off and spending the whole day together. We started by listening to some great principles about rest, then prayed together, then did some biking and hiking. The picture is one we took along the way. Right after that we saw a bear in the middle of the road. And at the end of the day we saw a turkey and her cute little "turkeyettes"—ok, google just informed me they are called chicks J.
Summer provides a change in the routines of a lot of people. And that often provides good opportunities for witnessing and discipling. So let's be praying, preparing (walking in the Spirit), and watching for these divine appointments to—as one of our missionaries puts it—lovingly and sensitively present the G
ospel of Jesus Christ.
What a privilege—I just got to meet with a young man and follow-up with a Bible study that I had given him and he had completed. It was on believer's baptism…
The result? He would like to follow the Lord in believer's baptism.
The next study I gave him to do?—"You and Your Church Membership".
What happened right after this? Another young man showed interest in God's Word, wants to get with me one-on-one, and plans to start next week. So we thank the Lord and appreciate your prayers concerning these folks.
Our Vacation Bible School is Saturday, June 30 from 9:00—2:00!
It's for ages 4-12 years and we will be learning about David, our hero of faith! We will be having Bible lessons, skits, puppets, craft… we pack the day full of fun and learning! Lunch will be provided and at 12:30, after earning tickets all morning, you can spend them at THE CARNIVAL!! This year you may even win a goldfish!!
You can preregister children at http://steamvalleybiblechurch.com/events/10175/vbs/
We just received 4 more preregistrations online today!
Here are some ways you can be involved…
Pray with and for us!
If you have children you'd like for us to invite, please let us know their names and
contact information.
If you are in our area and have internet access, it would really help to let people know about our VBS if you would share our VBS Event on facebook:
https://www.facebook.com/events/258457218058254/
Last night we visited 3 families to invite them to VBS. Lord willing tonight we are going to use our regular Wednesday night meeting to go out and invite 10 other specific families. Those who can't go are planning to pray for us as we go.
MEN's Bible Study: Last Friday night we continued a men's Bible Study on 1 & 2 Peter. We have a study book and so far are meeting about once a month. It's been a blessing to me as I go as a student and am encouraged by other SVBC men who are leading the study. The interaction and spiritual sharpening has been excellent. We have more books, so let me know if you can join us—you are more than welcome.
The weekly Ladies Bible Study has been going well and I know of at least one visitor who attended the M
om's Morning last week. We thank the Lord for these opportunities to give God's Word to folks.
On another personal note, our entire family had not been all together for ov
er 2 years. So a few weeks ago, we were all able to spend several days together and it was a blessing. The highlight for me was when we all sang some special music together on Sunday morning and evening. We also found out that another grandchild is on the way. God is g
ood, gracious, and merciful!
Thou art worthy, O Lord,
to receive glory and honour and power:
for thou hast created all things,
and for thy pleasure they are and were created; Revelation 4:11
Thank you for praying with us and for us.
We pray for you too!
In Christ's Love,
Tom & Wanda MacAvoy