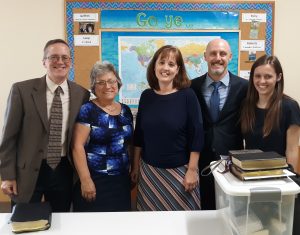 Do  you have a holy sense of expectancy, excitement, and optimism about the Lord and what He is doing? Do you want to finish with JOY? (Acts 20:24)
It was great to have our missionaries to Portugal with us yesterday—David, Julie, & Jocelyn Loop. Brother Dave preached on Acts 20:17-24 and how Paul lived in such a way as to finish his course/race  with JOY. At all seasons, Paul always was…
Driven by COMMITMENT; vv. 18-19; serving the Lord with humility of mind; goal: the Lord be magnified, not me.
Drawn by COMPASSION; v. 19; tears (largely missing in Christianity today). True compassion will produce action in my life!
Dedicated to his CALL; vv. 19-21; he faced many trials but remained faithful to God's call; he preached the whole counsel of God's Word, vv. 20, 27.
Determined in his COURSE; vv. 22-24; the unknown did not keep Paul from his determination to finish well. Finish your course with JOY!
Paul: I have fought a good fight, I have finished my course, I have kept the faith; 2 Timothy 4:7.
You and I can have the same testimony as Paul.
Let's ask God to help us finish our course with JOY!
In Sunday School, we are finishing up our study in Genesis and pressing on into Exodus. The promise that we've been tracking as we follow the accounts through Genesis is the promise given to Abraham of a land, a nation, and a Seed Who would bless all nations. That promise extends even further back to God's curse on the serpent, promising a Seed Who would bruise/crush the head of the serpent. As we leave Joseph and his father Jacob behind, we see that we are NOT leaving God's promises behind. We have already seen many examples of…
God's faithfulness to His promises,
His sovereignty over all of His creation, including man,
How He uses people to accomplish His will in the world, and…
God's plan continues!
You probably know how I love the providences of God. They are so encouraging. So here's another one. Our SVBC memory verse for July is 2 Timothy 2:8, Remember that Jesus Christ of the seed of David was raised from the dead according to my gospel…
On Sunday mornings we are working through the Gospel of John, currently on John chapter 18. Also on Sunday mornings, I am thankful for our Junior Church teachers and children. Yesterday, Emily ran up to me after church, gave me a hug, and through her junior church paper at me and said, Look what we learned! You can see by the pictures that they had a good way to remember the lesson. I asked Emily what the name of the man was that they learned about. She said Lazarus! Praise the Lord, we serve a living Savior—Jesus Christ!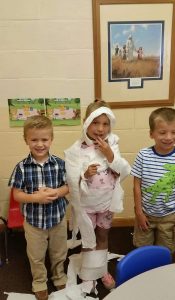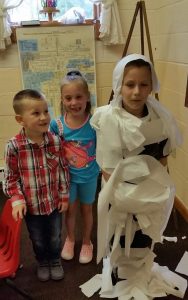 Rejoice in the Lord always! The joy of the LORD is your strength! (Philippians 4:4; Nehemiah )
Thank you for praying for us and we are praying for you too.
In Christ's Love,
Pastor Tom & Wanda MacAvoy