July Greetings and Happy Summer to you and yours!
We have had an eventful and exciting few weeks and want to thank the Lord for the opportunities He has given us to plant and water the seed of His Word. Please join us in praying for the increase only He can give!
Graduation provided us with a great time to meet individually with our five high school graduates (Jodi Young, Kelly Egrie, Kylee Kirch, Quinn Landon, & Ben Vick) to encourage them to stay faithful to the Lord Jesus Christ. High school graduation is usually a pivotal time in a young person's life so we wanted to make sure they all knew that SVBC would continue to love, support, and pray for them. At a fellowship luncheon each graduate was encouraged to testify of their salvation, give thanks to loved ones for their support over the years, and tell us a little bit of their plans for the future. We enjoyed hearing them! Please join us in continuing to pray for them.
Our homeschool helper group had its last meeting and at our graduation luncheon we got to see and hear how the Lord is working in the lives of five kindergarten graduates—both from the public school and homeschool (Jewel Beck, Ashlynn Beiter, Makenna Fields, James Marks, & Emmalin Roberts). It was another blessing as well as another opportunity for continued prayer.
Vacation Bible School was a blessing in so many ways! So many of the SVBC body of Christ were involved—working hard and praying. The Lord brought out more children than we have had for VBS in quite a few years. The words to the theme song touched my heart and to hear the children singing with all their hearts was a huge blessing…
Only One left His throne, only One begotten Son,
Only One spotless Lamb could sacrifice.
Only one power can save, only one empty grave,
Only one narrow way—Jesus Christ!
Please join us in prayer for several loved ones battling severe health issues: Vic Livermore, Nadine Young, another person who wishes to remain anonymous, and one of our missionary couples—Byron & Sheila Shupp who were in a car accident. Another of our young missionary families (Joe & Kerri Stinson) would appreciate your prayers as they begin a one-year medical furlough to get medical help for Kerri in the states as they have not been successful getting the help they need in Canada.
In Sunday School we are studying Sodom & Gomorrah. Morning preaching continues in the Gospel of John, chapter 13 with the evening worship expanding on the morning subject. On Wednesdays, we are working through the book of James and enjoying some good seasons of prayer. Wednesday, July 3 at 7 p.m. we plan a special Prayer Meeting for America. Join us if you can!
Sunday, July 7—Evangelist Mike Pelletier will be with us for the day. Regular morning schedule and then the evening we will all meet at the Cogan House Park for a youth activity and worship.
In Christ's Love,
Tom & Wanda MacAvoy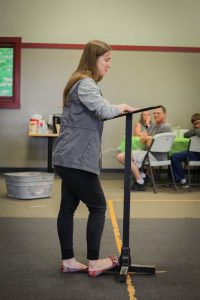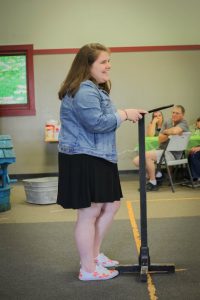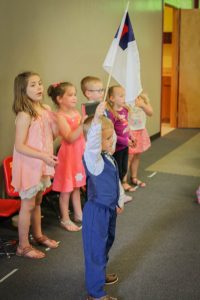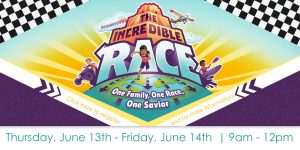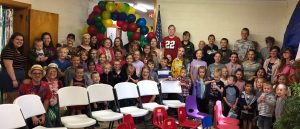 Weekly Noes for Announcements and Bulletin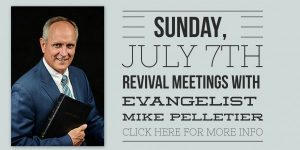 ——————————————————————————-