December Greetings!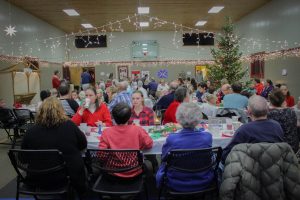 This past month we have been blessed with not only great preaching of God's Word but also positive responsiveness to the preaching. Evangelist Glen Shank and Family were with us first. Then Missionary Philip Seely and Family were with us. All the preaching was scripturally sound and down-to-earth. I thank the Lord that I had several folks contact me specifically about being burdened to grow in effective, Spirit-led witnessing and discipling. So that is something to both thank the Lord for and a request to join us in praying for the fruit that only the Lord can give.
And the things that thou hast heard of me among many witnesses,
the same commit thou to faithful men, who shall be able to teach others also; 2 Timothy 2:2.
Also thank the Lord and congratulations to the Marks family who welcomed Adam Thomas Marks on November 5! Baby, Mom, Dad, and brothers are all doing well. And I know some grandparents are sure enjoying their newest grandson!
We'd especially appreciate your prayers for our International Christmas Banquet on Sunday, December 8 at 5:00. What is that? (I will try to add a picture from 2017.) This year I believe there will be 11 different countries represented with their foods and different ways they celebrate Christmas. The gym is already shaping up with lights and 4 Christmas trees. Lord willing the choir will sing, teens will do a small program, and the children will be involved as well. There are quite a few children participating this year both from our Homeschool Helper group and our Children's Master Clubs. And of course, we pray that this will bring out their parents and grandparents for free food and an emphasis on the Christ of Christmas—Jesus Christ is King of kings! If you are in the area and available, you are more than welcome to join us.
Vic Livermore is recovering from pneumonia and Brett (Bubby) Fields has recovered well from a recent surgery. Please pray for the Sharp Family especially this month and Quinn Landon who continues in training with the army.
As we celebrate the incarnation of our Savior Jesus Christ, I will leave you with these verses from a devotional I read this morning…Wherefore gird up the loins of your mind, be sober, and hope to the end for the grace that is to be brought unto you at the revelation of Jesus Christ; As obedient children, not fashioning yourselves according to the former lusts in your ignorance: But as he which hath called you is holy, so be ye holy in all manner of conversation; Because it is written, Be ye holy; for I am holy; 1 Peter 1:13-16.
In Christ's Love,
Tom & Wanda MacAvoy