April Greetings!
Boast not thyself of tomorrow;
for thou knowest not what a day may bring forth; Proverbs 27:1.
But God knows! And thank the Lord that we know the God of gods Who knows all things.
WOW! What a huge change in our lives due to the Coronavirus. In light of that, this letter will be a bit longer than usual because I thought you could maybe use a bit of extra scriptural encouragement. Also, I will paste some of our recent announcements, cancellations, and postponements at the end of this letter. They are current as of this writing but may need to be updated by the time you receive this! 😊
Please feel free to contact me any time with needs, prayer requests, updates, or questions. This situation presents a great opportunity to love and serve—our Lord, our families, our church families, our missionaries, and our neighbors. May the Lord use this in us and through us for His glory!
With that thought in mind, what unusual opportunities (due to the coronavirus) have you had to love and serve other people in Jesus' name?  God can use you and me!         Happy Spring!
———————————————————————————————————————————–
CAN GOD USE ME?
Credit: Jesus Christ; Feature Devo 3-20-20; GWZ
God can use broken, flawed, and imperfect people!
Our strength lies neither in ourselves nor our perfections but in our God. Our Savior is perfect. He is the God of the flawed, the defective, and the damaged…
Moses was a stammerer.
John Mark was a deserter.
Jacob was a deceiver.
David had an affair.
Abraham was too old.
David was too young.
Paul was a murderer, as was Moses.
Jonah ran from God
Gideon and Thomas both doubted.
Elijah ran away
Martha was worrying.
Noah got drunk.
Moses was hot-tempered.
We are not an impressive lot, but Jesus is an amazing Savior!
He is superb in who He is and in all that He does. God does not call many wise, mighty, and noble; 1 Cor. 1:26. The truth is, we are so flawed that each one of us is unworthy to be called into the service of the Lord Jesus. Yet, there is no bruised reed whom Christ cannot restore and heal. Not one of His people has gone beyond His grace. Not one of us is useless.
Perhaps too many people have told us that we are incompetent, and that God has finished with us.  Oh, and yes, that quiet, accusing, inward voice has continually endorsed that sentiment. But God does not go down to Perfect Street to choose His workers. God can and does use the flawed.
Have you failed the Lord in the past? Take it to the Lord, confess your sins, and then move on with life. You are made righteous by the blood of the Lamb; Ro 3:25; 5:9; Heb 9:22; 1 John 1:7. If God can use the dead, dried jawbone of an old donkey (Judges 15:11-17), He can use you, and He can use me.
God can use broken, flawed, and imperfect people!
For ye see your calling, brethren, how that not many wise men after the flesh, not many mighty, not many noble, are called:  But God hath chosen the foolish things of the world to confound the wise; and God hath chosen the weak things of the world to confound the things which are mighty; And base things of the world, and things which are despised, hath God chosen, yea, and things which are not, to bring to nought things that are: That no flesh should glory in his presence. But of him are ye in Christ Jesus, who of God is made unto us wisdom, and righteousness, and sanctification, and redemption: That, according as it is written,
He that glorieth, let him glory in the Lord; 1 Corinthians 1:26-31.
———————————————————————————————————————————–
Praise and Prayer:
Please pray for comfort for Lorraine Livermore and all the loved ones as our brother Vic went to be with our Lord early on Thursday morning, March 12. We thank the Lord for our church family providing a luncheon and many opportunities to be a blessing.
Earl Hughes continues to struggle with sickness. An inhaler is helping him a little. Please pray concerning his cough, sleeplessness, and that the doctor would have wisdom and communicate.
Many of you support different ministries at SVBC with your prayers and finances but don't always get to see the fruit. So I thought you'd like to see some pictures from our Homeschool Helpers ministry And this is a good time to THANK YOU and thank the Lord—to God be the glory great things He is doing!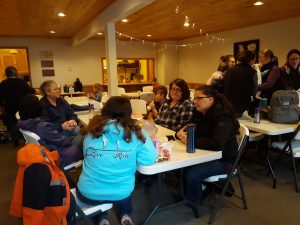 ---
SVBC Coronavirus Announcements, Cancellations, & Revisions…
We are called upon in the Scriptures to submit to the authorities God has ordained over us unless those authorities directly defy God's Word (Acts 5 and Romans 13). Such is not the case in this instance, so we will honor the suggestions of our national and state leadership. Therefore, SVBC Sunday services on March 22 were cancelled & this Sunday, March 29 is cancelled.
As of now however, we will continue with the following:
Prayer meetings on Wednesdays at 7:00 pm.
Men's prayer fellowship on Saturdays at 8:00 am.
During both of the meetings, we can avoid physical contact and if there are more than 10 people, we can divide up in smaller groups.
Lord willing (& technology willing) I will again be preaching live on our Steam Valley Bible Church facebook page on Sundays at 9:30. Last Sunday this worked better than I expected and has had 153 views including some of our family, extended family, and friends so I am thankful for that. I was able to save it so it can be accessed at other times. If you have facebook capability and can like our page, you should get a notice of me going live.
Postponed until further notice…
SVBC 4th annual 3-on-3 Basketball Outreach (originally scheduled for March 22)
http://steamvalleybiblechurch.com/3-on-3-basketball-tournament/
Forever Be Sure quartet; this is a Thursday at 7:00 pm (originally scheduled for April 2)
http://steamvalleybiblechurch.com/events/10438/forever-be-sure/
As of this writing, these events have not changed…
April 12 Resurrection Day with Evangelist Andy Gleiser and Family
April 26 Missionary Joe Stinson and Family and Master Club Awards in the
Evening
In Christ's Love,
Pastor Tom & Wanda MacAvoy