Remember: Daylight Savings Time ends this Sunday.
Enjoy an extra hour to get ready for the Lord's Day!
Well it hasn't been boring around here!
October started with a wonderful Lord's Day celebrating the 50th anniversary of the SVBC building combined with our annual Fall Fest. It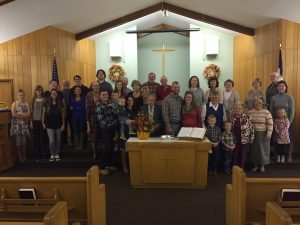 was a great day of remembering, honoring, praising and thanking the Lord, food, fellowship, and purposing to go on with and for our Lord Jesus Christ. The Lord
even held off the rain for us so that we could enjoy a hayride—2 wagonloads of folks.
Then a tree fell on the Activity Building. There were two slashes, one hole, and several dents in the roof. No one was hurt, the insurance already sent a check, materials are ordered, and Lord willing the repair will be done soon.
New carpet was installed in the auditorium.
I know that many of you could not, but it would have been great if you could have been here yesterday afternoon for our annual Fall Party and candy scramble for our Master Club families. The children and adults enjoyed smores, a hotdog roast, games, a Gospel presentation, and of course the famed candy scramble (using flashlights to find individually wrapped candy in the darkened gym and upstairs in the Youth Room for our little ones). We had a good crowd, great workers, a wonderful spirit, and another opportunity to reach out to our community. I love all the workers but am especially thankful for the young people who are doing a great job. So far, it has worked out well to move our Master Club meeting time to Wednesdays after school instead of later in the evening.
We also thank the Lord for several specific opportunities to give the Gospel to folks on a one-on-one basis. Several folks have inquired about baptism and church membership as well. There have been some other visitors and another family who we just heard are interested in visiting SVBC. The fields are indeed white unto harvest. Please pray that we would have wisdom and compassion in following-up with these folks.
For November we are praying and looking forward to Evangelist Glen Shank (https://www.shankfamilyministries.com/) being with us on the 10th, Missionary Phil Sealy being with us on the 24th, and our annual Thanksgiving Praise Service on the 27th at 7:00 p.m. Plan to join us for any or all of these things if you can!
These things I have spoken unto you, that in me ye might have peace.
In the world ye shall have tribulation: but be of good cheer; I have overcome the world; John 16:33.
May you and yours enjoy a wonderful season of giving thanks to our perfect Lord.
We greatly appreciate your prayers and we pray for you too!
In Christ's Love,
Tom & Wanda MacAvoy